You just got into a car accident. Now what?
No one wants to get into a wreck or plans to, but accidents happen, so the best thing to do is to make sure you are prepared beforehand. If you've been involved in a car accident, just being mindful of some things can make a huge difference.
As an auto body repair shop, we understand that getting into a car accident is a major inconvenience. Having to deal with the insurance company and take care of collision repairs can be a frustrating addition to your already busy schedule, so we try to make the process of getting your car repaired as simple as possible.
When it comes to fender benders and minor collision repairs, we aim to get the job done within a few days, so you can be back on the road as soon as possible, and we'll work with you on the schedule and timeline as much as we can.
What to do immediately after a car accident
Check for injuries
Of course the first thing to do in the event of an accident is to make sure everyone is ok. If anyone is hurt and requires emergency assistance, call 911.
Exchange Information
The next thing to do after an accident is exchange insurance information, as well as basic contact info, such as names and phone numbers. Also make a note of the car's make, model and license number.
Take Photos
Take pictures of the body damage done to each car, the license plates, and the scene of the accident. These may be helpful to look back on later when filing your insurance claim.
File a Report
Call local law enforcement to file a report of the accident. This protects both parties and gets all the pertinent information compiled into one concise report.
Contact your insurance agency
Call your insurance company as soon as possible to report the damage, so they can schedule a time for an adjuster to come out for an estimate. If you have an auto body shop you prefer, make sure to tell your insurance company where you would like to have your car repaired. Insurance companies have a list of body shops they use, but by law,  you are entitled to get your car repaired at any body shop you choose.
Contact your preferred auto body repair shop
Contact your body shop to let them know your insurance agency will be in contact with them. If getting work done with TD Customs, we are happy to help out and discuss the claim with your insurance company for you. We'll discuss your schedule with you and get the car in as soon as possible. Most collision repair jobs take a couple days, and our prices generally come in lower than other body shops in the area.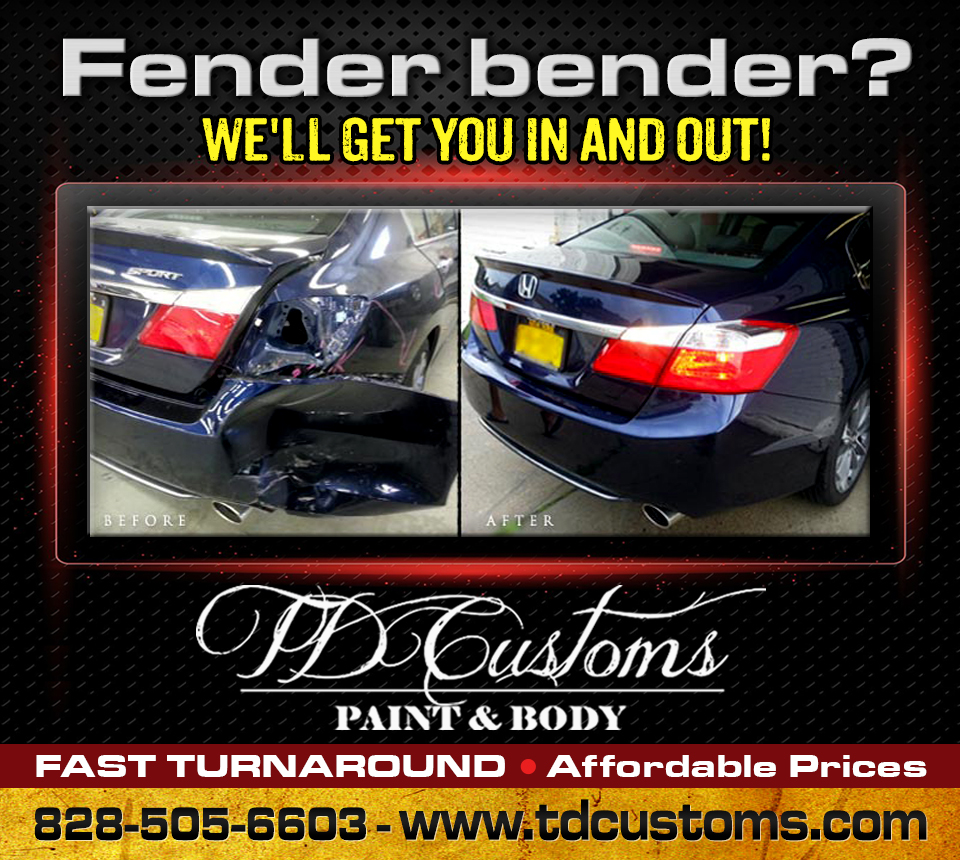 See our Collision Repair page for more information, or contact us to get your auto body repair job scheduled today.
---