Tis the season for bike parts!
Riding season is almost here! We get just as excited to finally take our motorcycle out for a cruise when this time of year rolls around. The sun is out, and it's time for some wind therapy!
We always see a jump in motorcycle paint jobs right before Spring, and this year is no different. In the last month, we've done quite a few motorcycle paint jobs. Some are brought in for full paint jobs, others just need their existing paint jobs touched up.
One recent motorcycle paint job was a candy purple paint job for an '86 Honda Shadow 1100.
Another motorcycle paint job we did recently was a complete color change for a 2002 Suzuki GSXR crotch rocket. The owner wanted a black and silver marble paint job. When doing a marble look, you choose two different colors, one for the base and another for on top. The color that will show the most is the one on top. However, you can also request to have more or less of the bottom coat showing through. It really depends on what look and colors you are going for.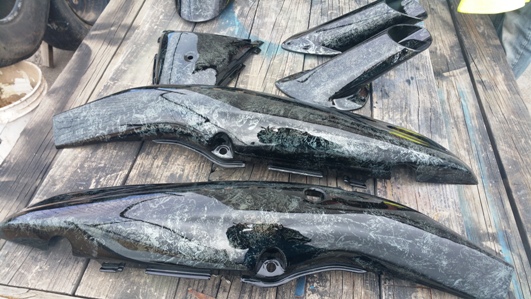 The following image is the tank after paint… Marble effect gives it a more complex look. There aren't obvious graphics on the bike, but a subtle design within the paint job. For more on this type of paint scheme, check out our post about Marble Effect Paint.
Another paint job was refinishing a Suzuki SV650 from red to pearl white. We refinished the tank, back tail piece, and the front fender.There were some dents in the tank that needed to be repaired. Once everything was repaired and prepped, we painted it the pearl white color. We also refinished the fork tubes you see in the front by the fender a nice bronze color.
Here you can see the before & after…
A lot of our pictures of our motorcycle paint jobs are of just the parts. We let our customers decide whether to bring just the parts or the entire bike. You can take the parts off yourself and bring them to us, or for an additional cost, you can bring the motorcycle and we'll dismantle and reassemble the parts for you. See our Motorcycle Repair & Paint page for more info on our motorcycle services.
To discuss your next motorcycle paint job, contact TD Customs.
For a gallery of all of our motorcycle paint jobs, see the Motorcycle Photo Gallery!
---