Classic 1940 Ford: Refinish & Paint
The 1940 Ford pickup truck is ready after body work and full paint.
The truck came in with the same color scheme; light green with the dark green fenders and running boards. They are not the factory-original colors, but they look great and really compliment each other.
All the parts come off the truck to be worked on and then painted. The fenders on these old classics are nice and rounded. When we do body work, we make sure the lines are nice and smooth, and that there are no blemishes. There is a lot of sanding and prep work that go into making sure each one of these pieces is perfect before paint. Once Tim is happy with how all the parts look and feel, it's time to paint.
The cab and the truck bed were painted the light green color. Here is the cab, hood and tailgate getting painted in one round. The bed was a project on its own, so that got painted separately.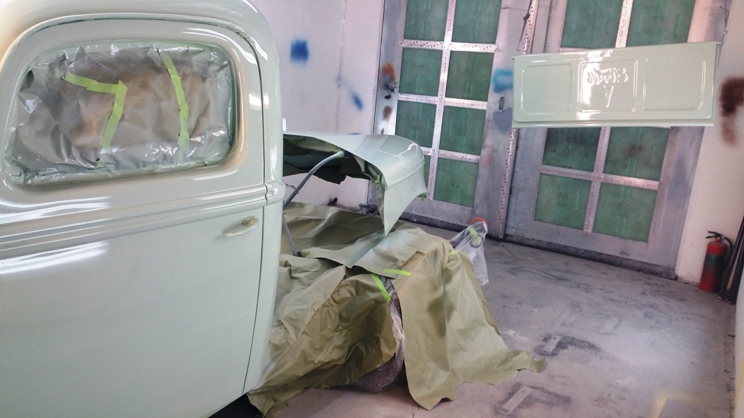 We took the bed off the truck so we could undercoat the frame of the truck and get rid of any rust. Of course, it's also how we can paint the back side of the truck cab and the front of the bed before re-attaching it. Every inch of our restorations get painted and protected in some way.
After the truck was painted and put back together, we called in our pinstriper to add the finishing touches.
The truck had some pinstriping on it originally. The owner liked the pinstripes, but requested that it be done just a tad simpler than what he had.
Ol-Skool Pinstriping helped us paint the fine lines that are down and around the cab of the truck, and the pinstriping embellishments on the fenders.
He also hand-painted the dark green for the Ford logo on the tailgate. These touches add a little more customization and personalization that really make the car or truck all your own.
From the back, you can see the hand-painted tailgate and the pinstriping on the back fenders. It looks good!
This 1940 Ford is a classic pickup with a new, custom paint job. The contrast of the two green colors makes it really pop. The paint scheme is unique to this particular truck, of course. Many customers like their truck to be all their own, so choosing colors that you love is important.
Here is another view of the '40 Ford pickup. Look how beautiful the rounded roof and those rounded fenders are! They just don't make trucks with these kinds of body lines anymore! Tim loves keeping these old classics on the road. This one is now good as new.
[Scroll down for a gallery of pictures from this restoration.]
Contact us to discuss your restoration or paint job with us today! To see more pictures of our work, check out the Photo Gallery.
---