1967 Ford Mustang: Bodywork & Paint
The 1967 Ford Mustang has been painted, and looks great! The owner picked custom colors for the classic car. One is the Sonic blue pearl color we see on the main body. The other color is a grey/silver color for small accent pieces, such as all the trim and exterior pieces.
When we last updated the blog, the Mustang's inner door jambs and underneath the hood and trunk had been painted, and the car was in primer. Here it is all put together and ready for fresh paint.
There was body work needed all over the car, specifically on the hood, the roof and the trunk lid. To see more on the body work part of this classic restoration, check out the Progress Update on the 1967 Mustang post.
When all the body work is done and the body of the car is free of any waves or dings, it's time for paint.
After a few coats of paint and clear, you can see how great the color looks. It's during this stage (yep, right at the end) that you'll see any waves that are in the body of the car. Tim makes sure that he goes over the car several times during the body work phase to make sure everything looks nice and straight.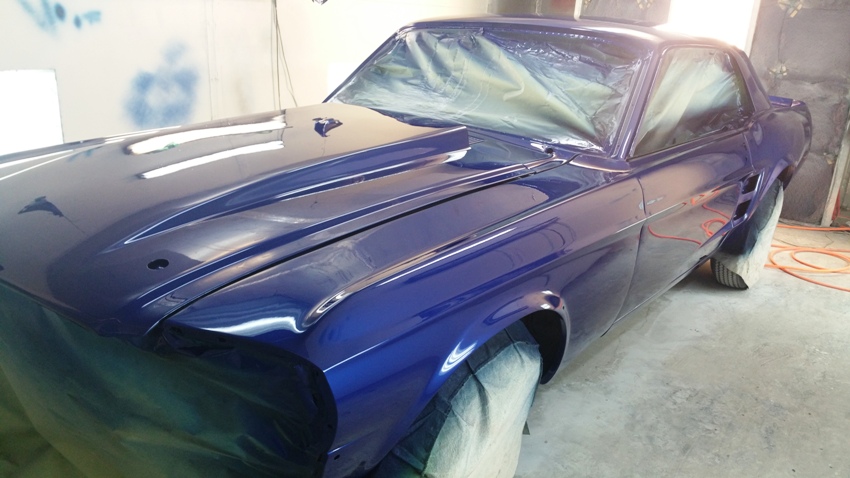 There are still a few things needed on the Mustang. The owner is putting the rest of the car back together himself, and will be doing the interior and motor as well.
Here is the view from the back. You can see the two colors and how well they go together. It's going to look even better when all the lights and trim pieces are all put on.
There was a good amount of body work needed on this job, but it was well worth it. The finished product looks great. TD Customs offers auto body repair work of all kinds, including automotive restorations and custom paint jobs.
To see more of our work, browse through the Photo Gallery, or check out our Restorations page. If you've got a car you've been wanting to get done, contact us today to discuss your project with us.
(For all the pictures from this auto body paint project, scroll down to the very bottom of this post.)
---