'62 Chevy Impala Refinish & Paint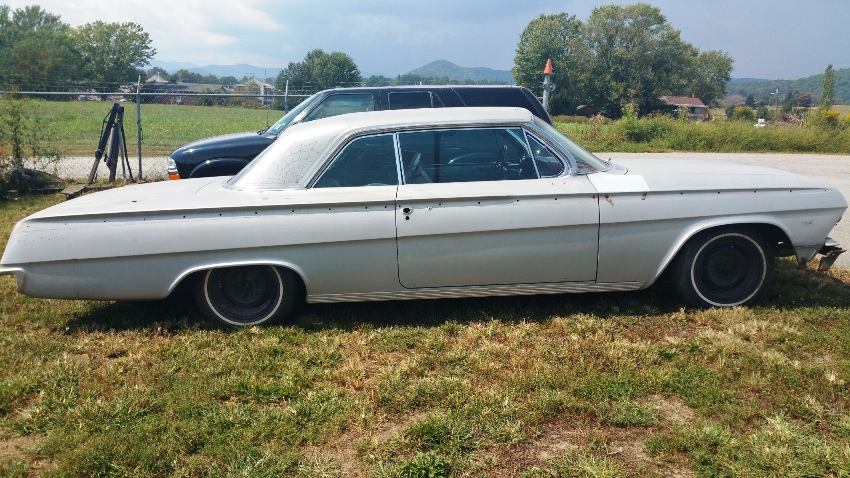 The 1962 Chevy Impala Classic is our latest full classic restoration. It needed rust repair, body work and a brand new color.
The car looked very unique when it first came in. The paint had been stripped down already. In a few different places, there were some cool spiderwebs and pin-striping. Take a look at the different designs below.
Of course, we didn't keep the pin striping. The owners chose a beautiful blue color for the Impala. It looks great both inside and in the sun. Here is the finished product after body work and fresh paint!
The body of the car is nice and straight. It's always good to look really close down the body of the car. It's from this angle that you'll be able to see any little waves. Of course, with TD Customs' automotive restorations, there are not.
The trim pieces have a strip in the middle of the chrome that was also painted to match the car.
Check out all the pictures of this classic restoration below!
The owners have decided to change the red interior out for white. The seats are with the guy who does all our interior work. He's extremely talented. We can't wait to see what the interior looks like when it's all done. It'll probably be a couple weeks, so we'll update this post when we get them in. Look for the pictures on Facebook too!
This was a really cool restoration to do. It's always nice to see such a drastic transformation in the before and after photos, too. This beautiful classic car is ready for the car shows next year.
TD Customs is an Asheville body shop that does all kinds of body repair work, yet specializes in classic restorations and gorgeous paint jobs. Whether you've got an old classic or your favorite car or truck that needs restored, give us a call. We'll put it back to factory original, or give it a completely custom look!
---