Custom painted helmets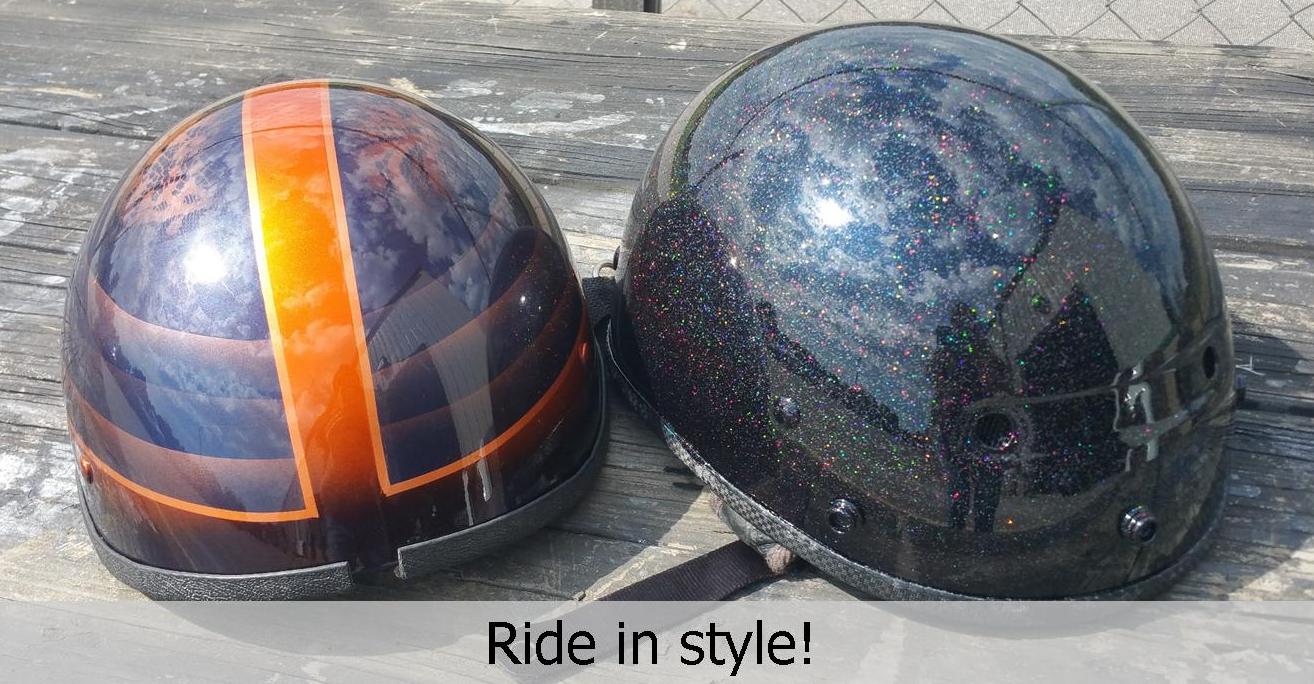 Custom painted helmets
Don't just wear any plain black helmet you picked up at the store. Let your helmet be another accessory for your bike rides. Custom painted helmets let you take the design where you want to go.
The blue/ purple/ orange helmet shows different paint design options. Here you can see some lace effect on the top, and some different fading and striping. Painting with lace is cool because there are lots of different fabrics of lace you can find. Each one is different, so you can choose the design you like best.
How to Choose?!
If you want a custom painted helmet, but don't know where to start, start by narrowing down the colors. What are your favorite colors? What color is your motorcycle? From there, think about the design elements you typically like. If you have a logo, lettering or specific image you want, we can use a plotter to cut images you have on the computer and put them on the helmet. If you've got your heart set on an airbrushed design, we have an airbrush artist you can speak with to get just the right artwork. Lots of inspiration can be found online. We are also happy to help collaborate with you on the design to come up with something great.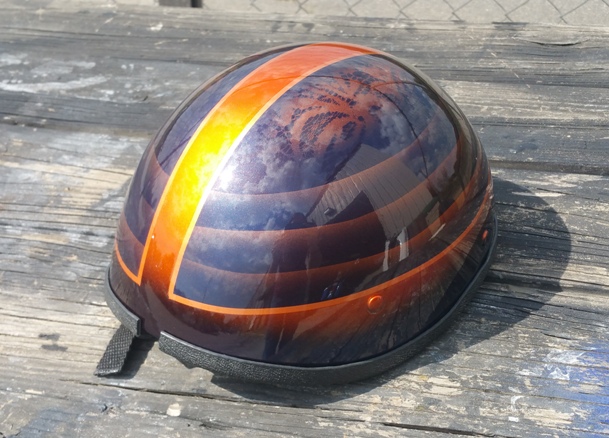 Rainbow Metal Flake Helmet
Not only can you pick your paint colors, you can also look into different types of metal flake. Metal flake is the glitter additive that will make your custom helmet sparkle and stand out from the crowd. We add it in with the final clear coat application. Glitter flake comes in different colors and different size flake. What you see here is rainbow flake on top of black. It looks great both inside and outside in the sun.
Marble Effect Paint
The marble technique can be done with different colors and design options. This green helmet below has only one color; the green. We can also work with two colors to create a bolder look, with one color as the base and another for the marble on top. Therefore, we can easily create the look that is right for you.
Chameleon, Color-Changing Paint
Chromalusion paint changes color depending on the light and angle you look at it. This paint had pinks, purples, greens and blues. Other options with different colors are available.
More on Color Changing Chromalusion Paint.
Light Up Helmets
Of course, the newest paint option is electroluminescent paint. We can paint your helmet to light up with an electric charge. The helmet below is painted with the aqua electroluminescent paint. Lumilor is always the base, and then we top coat after that. The possibilities with this are truly endless. You can have the helmet be one solid color when it's off. The lit area could just be flames or stripes. Or we can airbrush artwork on top, or create a completely custom design. Custom painted helmets that light up are a great way to increase visibility out on the roads, while also having the newest, coolest design!
More on Light up Helmets.
Let your motorcycle helmet be another accessory for your ride. TD Customs offers all kinds of custom paint services. For a free estimate, contact us to discuss what you've got in mind and how we can help.
---