Exact Replica Motorcycle Paint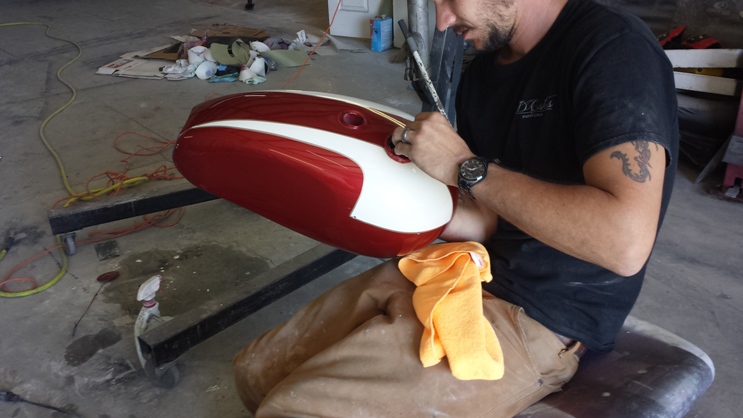 We had a customer come to us with a 1976 Triumph Bonneville motorcycle tank that was faded from the sun. The paint was looking a bit rough, and they wanted the exact same paint job to bring it back to its original glory.
This custom motorcycle paint job may have posed a problem for some, but Tim is great at working with the lines of a certain design and getting them to match up just right. He was able to tape off the lines and create the exact same look the bike originally had.
After taping lines and applying custom mixed paint, the motorcycle now looks brand new again, with the same paint job the customer had in the very beginning. The tank also had some rust in it, so we used an acid to remove the rust and installed a gel coat liner to keep it from coming back.
This customer actually lives a couple hours away and found us online. He loved all the pictures of the bikes Tim has painted, and shipped their tank to us to paint. It's the first time we've done a job without actually meeting the customer at the shop at some point, but he shipped the tank out, and Tim has been communicating with him throughout the whole process, sending pictures and providing updates. And now that it's done, we'll just ship it back. When possible, we're happy to work with customers who are not local.
We are really happy with the way this tank turned out! When you put the before and after paint pictures together, you can see how much difference the updated color makes, and how well the lines match.
If you've got a bike you'd like to get painted, contact us today and we'd be happy to work with you. (Even if you need to ship it to us, like this job!) For pictures of other motorcycles we've done, check out our Motorcycle Photo Gallery!
---