Trans Am Restoration Update
We've been diving into the Trans Am restoration this week, getting the whole car stripped down to bare metal and doing body work on the areas that need it.
We had stripped the paint off with a paint stripper compound to get most of it off. Then, we took each individual part and sanded it down to bare metal and started doing the repairs. Some parts needed metal work done, while others needed body work, and some both. The job is to get the car as straight as possible, removing any dents and dings and waves in the body.
There was some metal work to be done on the end quarter panels. Rust holes were patched up with new metal and body work was also done.
Getting the panels just right with the rust holes and other imperfections is a time intensive project. We make sure every curve and line is as it should be. Once paint is sprayed, you'll be able to see every little curvature in the body panels, so now is the time to get them shaped perfectly.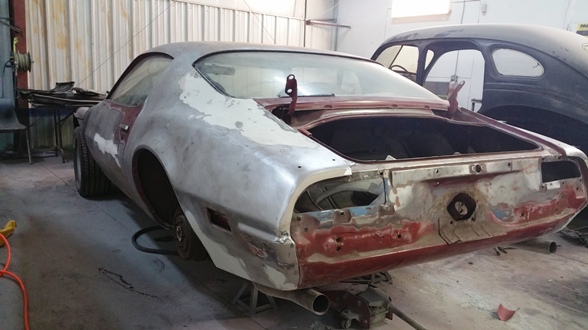 We've gotten all of body work done on both of the fenders of the car, and applied a coat of POR to the insides, like the one shown below.
Both of the fenders and the spoiler have been primed, and it won't be long before the rest of the car is in primer as well.
When everything is primed, there will be a lot more sanding and prepping for the paint. If you've been following the blog or Facebook, you know this car is going from the dark maroon color paint you see here to a true blue color. This is the model we are going for…
This is going to be a great paint job. The blue and white go great together with this body, and it's going to truly give the car new life. Stay tuned for updates as more progress is made, and to see the beautiful finished product coming in the next few weeks.
Contact TD Customs if we can help with any of your restoration or custom paint work, and check out the Photo Galleries to see photos of our work.
---