#NoMoreYellow – '64 Mustang Full Paint Job
The latest full paint job here at TD Customs has been this 1964 Ford Mustang. It came in a bright yellow color, and the owner knew she didn't want to keep the color.
The first order of business on this classic car was to strip the paint. We used a chemical paint stripping process to completely bring the car down the bare metal.
Follow the link to learn more about the chemical stripping process done on this '64 Mustang!
After the car has been brought down to bare metal, we can then get a good look at the car. We can see how the shape of the body is, and any imperfections that need to be repaired. We note these issues and repair them with body work, carefully sanding and sculpting the car to be smooth and straight. When that's done, it's ready for primer.
When it came time to buy the paint and make a final decision, the owner remembered a color she liked. She had seen it on a friend's Apple watch, comparing it to the color of a brand new penny. We have tons of paint catalogs, and she found one that was just what she was going for.
At TD Customs, every full paint job includes painting the door jambs and inner parts of the car first. We then reassemble the entire car and paint the exterior. This ensures the most seamless, flawless look for your car.
Once the doors, hood and trunk are put back on the car, we can start on the outside. After every paint job, we buff and polish the entire body of the car. This brings out a beautiful, clean finish that allows the paint to really shine.
This classic car paint job turned out great. The color is custom and just what the owner wanted. Take a look…
The Mustang sure sparkles in the sun now!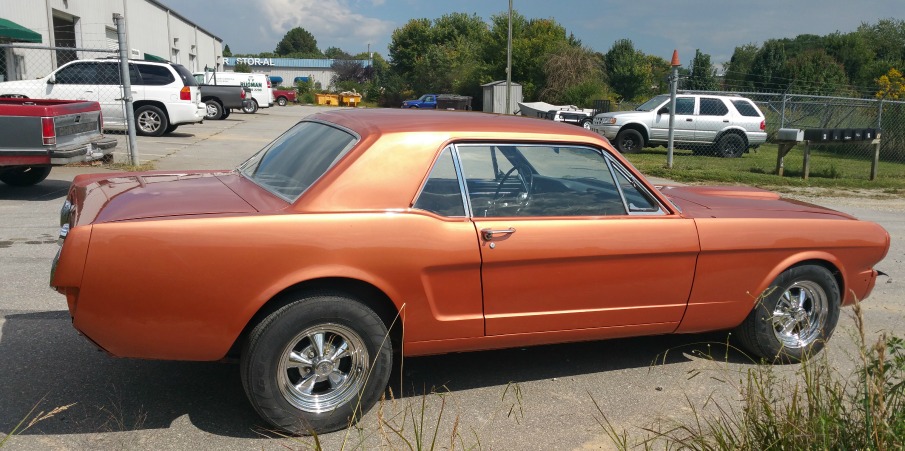 Scroll all the way down for a gallery of photos from this '64 Mustang full paint job….
TD Customs specializes in full paint jobs and automotive restorations. We also do collision repair, motorcycle paint jobs, you name it. To see more of our work, check out the Photo Gallery!
Contact us to discuss your project with us today!
---