Full Color Change Paint Jobs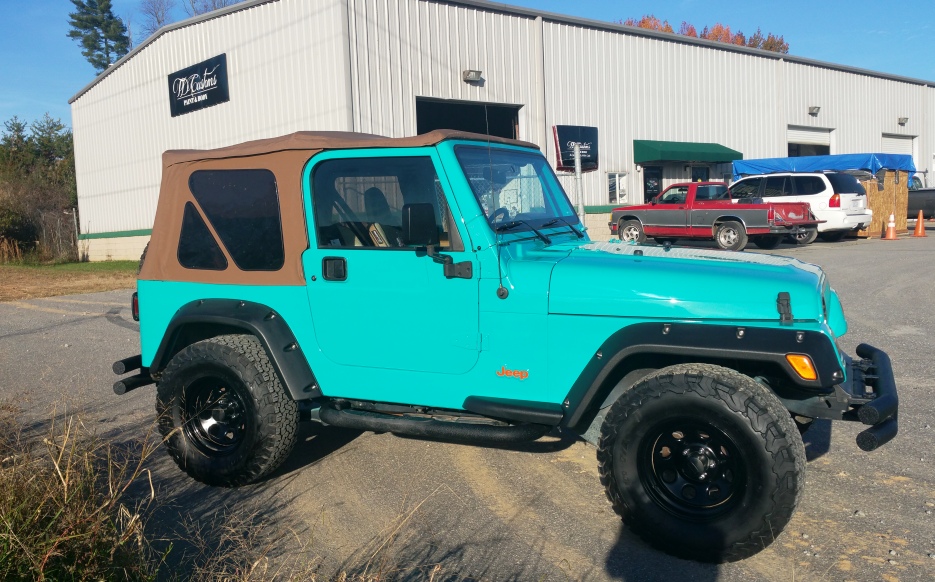 Full color change paint jobs are what we, at TD Customs, do best. Whether you want a completely custom look or prefer to restore it back to its original condition, we can help. We love when restorations get a completely new look. There's nothing better than restoring a vehicle and giving it new life through a new look.
This Jeep Wrangler came in white and looking a little worse for wear. We needed to do some rust repair, body work, a bedliner coating, some other minor issues, and of course, paint.
Originally, the owners wanted to refinish the Jeep back to a clean white. When we mentioned we could paint it any color since we were already doing a full paint job, they decided to get creative. Instead of white, they chose the Yeti brand teal color they love.
And voila, a brand new look. The fresh paint and new color transforms the Jeep from drab to fab.
Full Color Change Paint Jobs
Many body shops in our area don't do full paint jobs. We understand it's easier to do small collision repairs that don't require taking off the doors, hood and trunk lid, but it's surprising to us that shops exclude them altogether. We'll replace parts and do collision repair any day. But what makes us really happy is transforming your vehicle into something you'll love. We're happy to take the time to do full paint jobs and give your vehicle the makeover you're going for. I mean, look how beautiful this Jeep looks now!
We love when customers have cool, creative ideas for their vehicles. The owners of this Jeep enjoy mountain biking and use it for fun trips into the mountains. In keeping with the Yeti teal theme, they decided on a yeti/ sasquatch accent for the hood. We also added the Jeep emblem accents on the sides in the same color orange.
We can paint just about any image onto your vehicle with the use of vinyl decals. Once the orange base was laid down, we applied the decal and paint the top color. After it's dry, we simply peel off the decal, revealing the image you've chosen. Since we use a vinyl decal, you can choose any image or logo. You can email it to us, or we can find something online and get it printed.
AT TD Customs, we enjoy restoring vehicles back to their original condition or, like in this case, giving them a full makeover. We have a passion for cars and trucks in general. Seeing them look their best is always our goal.
Ready for a full paint job of your own? Contact us to discuss how we can help!
Check out the Photo Galleries for pictures of our work.
---