Latest Custom Motorcycle Paint Job
The latest custom motorcycle paint job included repair for a small dent in the tank and a custom paint scheme, using several different colors. It has a black and blue marble effect on a silver base, with a tribal design and white border dividing the two layers.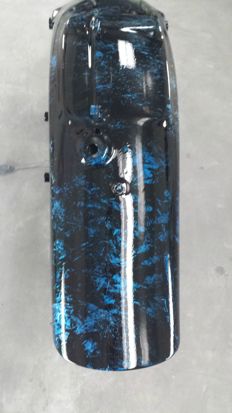 When it comes to painting bikes, there are so many possibilities for custom paint schemes. Even after this one was done, Tim kept thinking about new ways to possibly design the silver layer, like maybe a marble effect there as well or more shading of the edges or giving it more of a layered steel look.
Doing these bike paint jobs are a lot of fun. Tim is able to get creative, and use brighter colors and more unique design than the average fender bender. And the customer gets a one-of-a-kind paint job on their motorcycle that will look awesome cruising down the street. Some customers even ask us to paint their helmets to match the bike paint, which looks really cool and gives it even more of that custom look.
Do you have a motorcycle that needs a new paint job? Are you thinking simple and possibly back to factory original, or would you want an entirely new custom paint job? Either way, fresh paint is the best way to get your bike looking brand new again.
Contact us today for an estimate on getting your bike painted. Our prices are extremely affordable and we'll work with you to create the perfect look.
---