The MGB is yellow no more
The 1973 MGB Roadster has been painted! Originally a bright yellow, the car got restored and painted a fresh blue/ teal color.
This restoration didn't take as long as most because there wasn't as much body work as we typically find. The car also came partially disassembled, so we didn't have to take care of the small parts, like the door handles, lights, grill, etc. And the car is very tiny! Here is the Before…
There was a lot of sanding to be done with this one. Don't let the size of the car fool you; there's still a lot of surface area that had to be completely sanded down. It was all hands on deck as we spent a few days sanding on the MGB from top to bottom. Here Tim shows off what sanding a yellow car will leave you looking like at the end of the day…
Every part of the restoration process is important. When sanding it down, we have to be sure to completely sand every inch of the car. If we miss a spot somewhere, the paint won't lay down or stick as well, and we could potentially still see little yellow spots after we paint the new green color. Not good! That would require sanding it again and repainting it. You know what they say; the devil is in the details. No part of the paint job can be overlooked or rushed through.
The first to be painted were the door jambs and all the inner areas of the car, including the insides of the hood, trunk and doors. Once that it done, we tape the opposite areas off and paint the entire exterior.
Here it is after a full paint job. After paint, we reassembled all the parts back onto the car, and it got a final wet sand and buff and polish to make sure it really shines. After getting painted, these kinds of restorations typically take a few days to a week to reassemble doors and hood, and get it ready to be delivered.
The new paint job makes so much difference! It looks like a completely different car, just in time for those summer days with perfect cruising weather!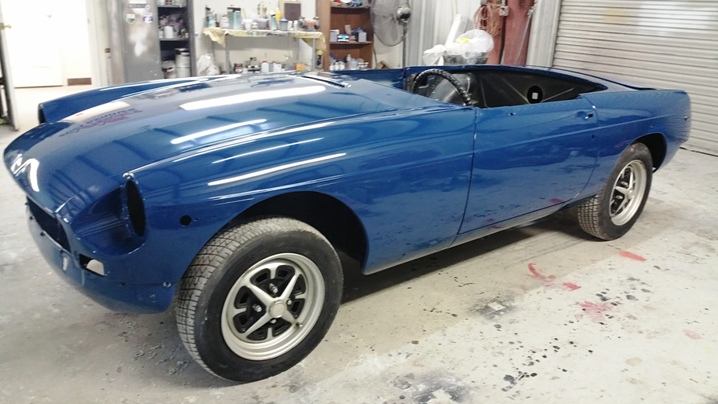 To see more pictures of our work, check out the Photo Gallery, and our Restoration page. If you have any questions or would like to get your vehicle scheduled for a restoration/ paint job, contact us today!
---
3 Replies to "The MGB is yellow no more"
February 26, 2021 (4:59 am)

Auto body Work looks amazing.

Lehi

March 22, 2019 (10:09 am)

Lee info thanks

Leb

March 22, 2019 (10:08 am)

Is this blue British Leland teal blue. Can you send me paint code and number and brand and type. Love the COLOUR. THANKS LEE
---