Motorcycle Paint Job: Mint green bobber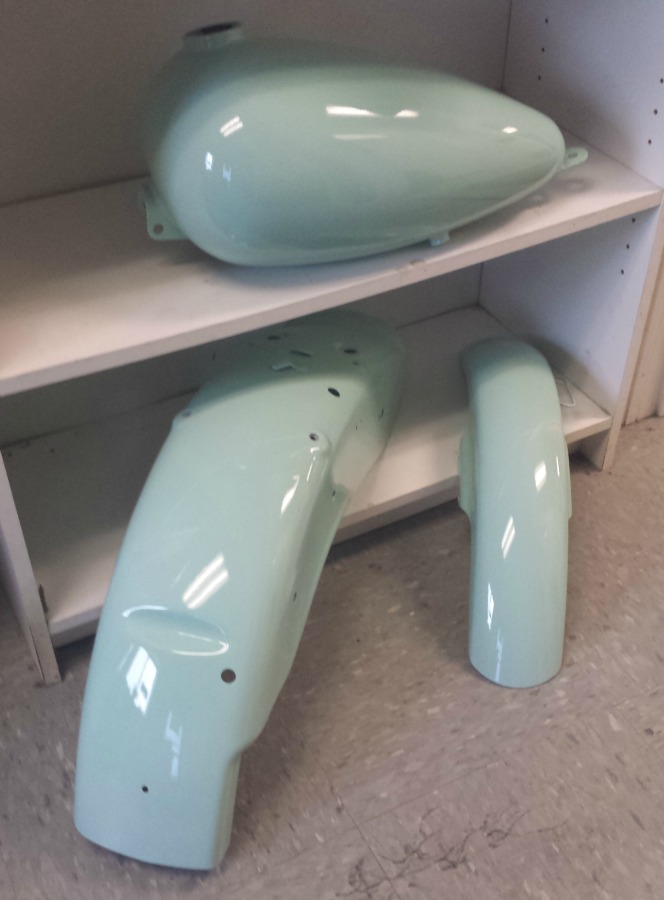 Last week we had a motorcycle paint job for a custom bobber bike.
The parts were bright red to begin with, but called for a softer, more vintage look for vision the customer had in mind for the way he wants to customize the bike.
Therefore, there was no exact color code for this paint job. The customer had an idea of what kinds of look he was going for and showed us some pictures he had saved on his phone. He wanted a light, almost mint colored green.
He and Tim looked through our paint color catalogs. We have a couple of these paint color catalogs at the shop for customers to look at. It's by no means a complete inventory of all the colors we could get, but it's proven to be very helpful in helping customers give us an idea of what color they are looking for. Flipping through the paint catalogs lets us figure out what colors the customer may think are too bold, or too glittery, or too whatever. That way, we're all on the same page before we begin any motorcycle paint job and we know we are getting the color just right.
The customer was very happy when he saw the parts, and said they turned out better than had imagined. We love hearing our customers get excited about our custom motorcycle paint work. A bike can say a lot about a person, and we love making them a representation of who you are!
If you've got a bike that needs an awesome motorcycle paint job, we'd love to help! Contact us today for an estimate and to discuss what kind of look you're going for. Also, check out some of our previous motorcycle paint jobs on the Motorcycle Gallery page.
---