TD Customs is at Lumilor Labs' Training Center!
TD Customs is finally here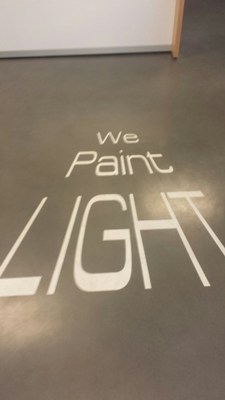 at the Lumilor Labs headquarters in Las Vegas! Tim is learning all about the Lumilor product and its application system so we can bring the coolest (and only!) electroluminescent paint product back to the East Coast with us!
TD Customs will be one of the first shops in the United States to become certified in Lumilor. Others have been certified from Australia, the UK and even the Middle East. We are excited to get in on the ground floor of this new technology, and can't wait to get to work on some awesome projects!
The first day of class was great. Tim is loving it and learning a lot. They talked about the paint process, which is a fairly complicated process of applying different layers of paint to achieve the illumination. We're dealing with a real electric current, so it's got to be just right. Any flaw in any layer will create an uneven look in the light and cause the charge to act differently than it should.
This is a 10-day class for good reason, as it there is a lot to learn in this application. It's also very hands-on, so we'll be posting videos and pictures from some of the projects. It's amazing to see the science behind this product and everything that goes into making the paint light up.
So far, we are enjoying Las Vegas! We're super happy with our hotel, and it's close to the strip and the Lumilor Lab building. We're already up $350 from a wonderful Cleopatra slot machine (thanks ARIA Casino!). We've eaten good food and plan on seeing a couple shows. Not a bad way to spend a couple weeks!
Follow us on Facebook, Instagram & Twitter to see all our Vegas posts with #tdcustomsdoesvegas!
See our LUMILOR page for all the details, and be sure to check out some popular electroluminescent paint questions. For any other questions, don't hesitate to ask!
---