TD Customs' 2018 Calendar
Every year we put together a calendar of our best and most favorite restorations and paint jobs we've done that year. It typically includes our bigger restorations and custom paint jobs. This year we had a lot of pictures of our work to choose from.
Take a look at this year's calendar…
~ January ~
This white 1987 Chevy Silverado came in with worn paint and rust damage, needing a full paint job. We replaced cab corners, repaired all the rust and body damage, and replaced all the glass. We also cleaned and undercoated the frame to keep rust from returning, and of course, gave it a fresh factory-original paint job back to white.
Click Here to read more about the '87 Silverado.
~ February ~
We put the bright red 1980 Corvette in the month of February for a little Valentine's Day reference. This job required new front and back bumpers, body work, and fresh paint. The owner bought the car 15 years ago, and it just needed to be refinished back to its original 'Victory Red' look.
Click Here to read more about the '80 Corvette.
~ March ~
To ring in the start of Spring, you see the 1940 Ford pickup truck that was refinished back to the light green and true green colors it came in with. Every part was taken off the truck and refinished, repairing any body damage. We also had a pinstriper come in to do some small hand-painted detail work, such as the Ford logo on the tailgate and the prinstriping down the sides.
Click Here to read more about the 1940 Ford pickup.
~ April ~
The 1963 Studebaker Avanti went from gold to a light blue, and was actually done in two stages. First, we painted the inner jambs and the engine bay. The owner then took it to get the motor put in, and then  brought it back later for exterior paint and body work. The calendar shows a Before & After for this job.
Click Here to read more about the '63 Studebaker Avanti.
~ May ~
This 2008 Toyota Camry goes to show you don't need a classic car to completely customize the look of  your vehicle. What started out as your average light green colored Camry you see everywhere on the roads, was transformed with a full custom paint job and a new body kit. The front and back bumpers and side skirts change the whole body of the car. And the two-toned navy and grey paint job makes it completely unique from anything else you typically see.
Click Here to read more about the 2008 Camry.
~ June ~
The 1970 Plymouth Barracuda was another restoration we did, but only to the exterior body of the car. We took it down to bare metal using dustless water blasting, and then restored the body back to its original condition. We repaired rust by replacing floor pans and quarters panels and welding in new metal. Next came body work and painting it that bright Sublime Green color. We had our upholsterer install the black vinyl top that adds a nice contrast. The rest of the job is up to the owner, but we love how it's turned out so far!
Click Here to read more about the '70 Cuda.
~ July ~
July features Tim Donaghue, shop owner, and Erick, our leading, most experienced auto body tech. In the background is a '67 Mustang we did a full black paint job on. We were responsible for just the paint on this one, refinishing the body back to perfect condition and returning it to the owner for complete assembly. Black is a color that tends to show every little imperfection, so as always, the goal is to be able to look down the sides of the car and see no waves or imperfections whatsoever. It's so straight you can see your reflection!
~ August ~
This 1997 Jeep Wrangler came in white, needing body work and paint. After talking with the owners and learning it is used for weekend adventures and transporting their mountain bikes, we suggested giving it a fun, custom paint job. Unlike other shops, we don't charge extra for color changes, we simply charge what that color paint costs. They decided to paint it a Yeti-teal color, with small orange accents, such as the Jeep logo on the sides and Yeti/ sasquatch on the hood. Complete with a durable Line-X bedliner, this Jeep is totally cool and custom looking.
Click Here to read more about the '97 Jeep Wrangler.
~ September ~
This 1973 Corvette Stingray got a full restoration and factory-original paint job. When I say full restoration, I mean Full. We repaired or replaced nearly every exterior and interior component to this car. It is a family car that the owner's parents had from when they were just dating, so like many classics we restore, this one has sentimental value.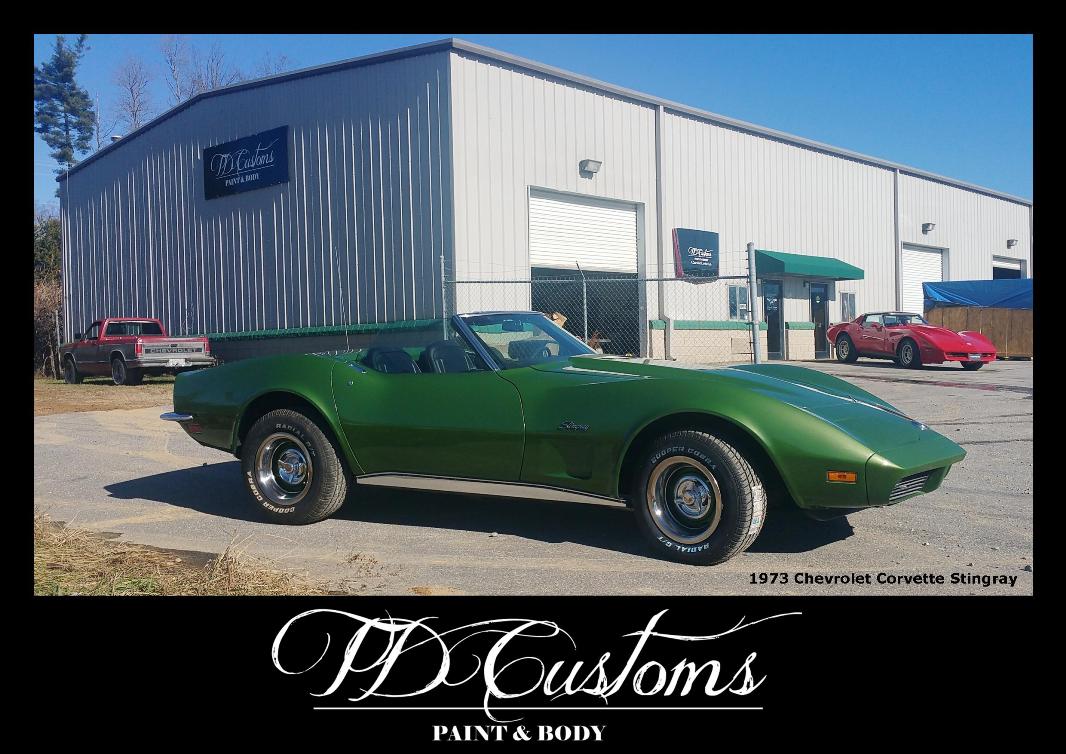 ~ October ~
Orange for October! This '64 Mustang came in bright yellow, which the owner was eager to change. We stripped this car down using a chemical paint stripper, and then did the body work that was needed to get straight again. The owner chose the orange color out of our paint catalog, wanting it to resemble a brand new penny. It sure does sparkle in the sun now.
Click Here to read more about the '64 Mustang.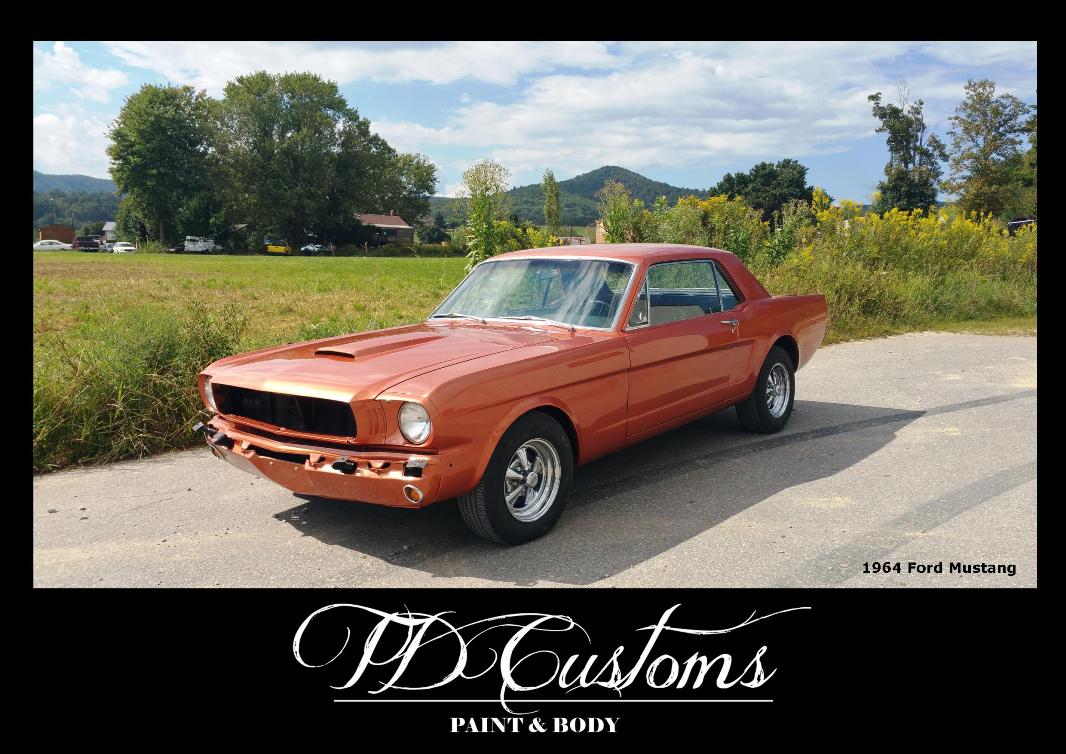 ~ November ~
November shows off a very special restoration we've been working on for awhile now. The '39 Chrysler Royal belongs to Tim's grandmother, who has owned it since she was 16 years old. This is a full, ground up restoration. We're refinishing the exterior of course, but also every interior piece, like the trim. The task now is to get the motor running and run the wiring throughout the car. We've been a little secretive about what we show of little Ms. Ruthy because she is going to be a surprise for Tim's grandma when it's all done. This calendar picture may be the first time they see the car since it's been painted.
Click Here to read more about Ruthy's Resto.
~ December ~
When you have two red and green Corvettes that are both being delivered in the month of December, you can't not take a Christmas photo. They both looked so good out there sparkling in the sun with all their Christmas spirit. We hope everyone enjoyed their holidays, from us at TD Customs!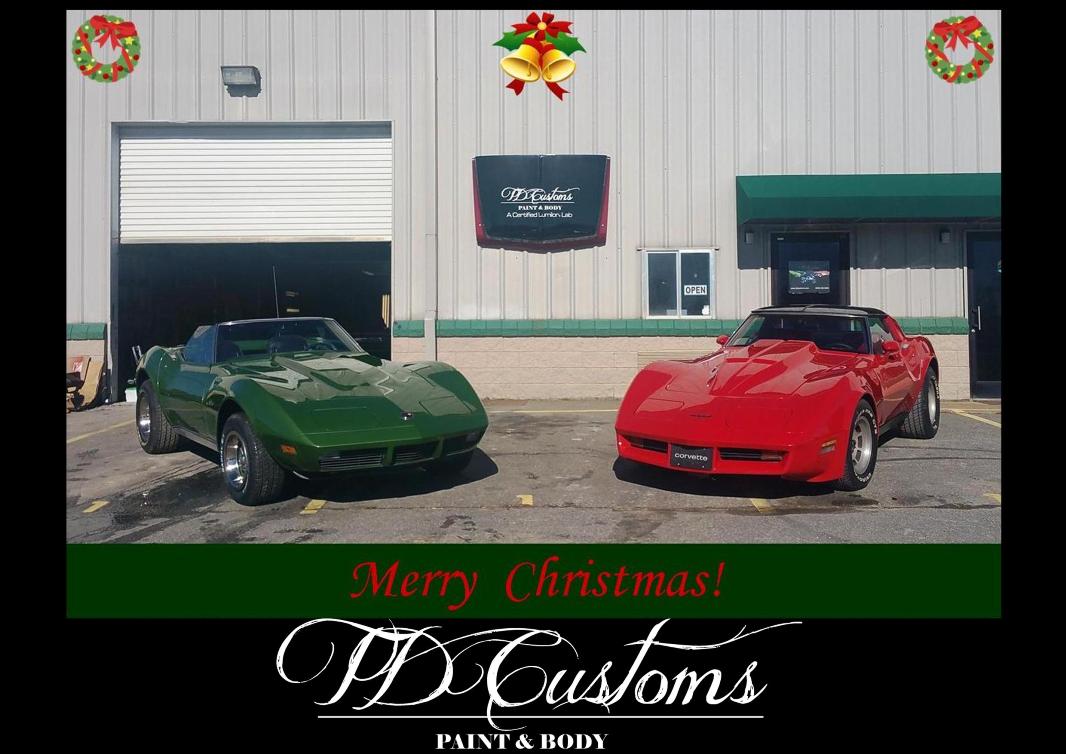 And there you have it! Twelve of the top restorations and paint jobs we've done in 2017. We had a great year here in Mills River, serving Asheville and all surrounding areas.
Here's to 2018! Can't wait to see what kinds of cars make the cut for next year's calendar… will it be yours?
If anyone would like their own TD Customs calendar, please let us know. They are $10 a piece.
If you have any questions about our services or would like to discuss your project with us, contact Tim. For even more pictures of our finished work, check out the Photo Galleries!
---